OKINAWA COLLOIDS 2019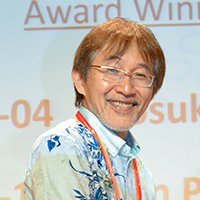 Division of Colloid and Surface Chemistry
The Chemical Society of Japan
Conference Vice-Chair

Takeshi Kawai
Q1

Why did you choose Okinawa as your venue?

OKINAWA COLLOIDS 2019 was held as an International Conference on Colloid & Surface Science Celebrating the 70th Anniversary of the Divisional Meeting of Division of Colloid and Surface Chemistry. Therefore, we needed an attractive venue with a special atmosphere to get many people together from Japan and overseas. Furthermore, since we decided to hold the meeting without having an executive committee at the venue, sufficient support from the venue and local municipality was a significant factor. When the executive committee took these things into consideration comprehensively, Okinawa was the venue to meet all the factors.

Q2

How did you feel about the charms of Okinawa as a venue?

In fact, the overseas researchers motivation was considerably enhanced by means of Okinawa was chosen as the venue. Many famous advanced researchers from overseas showed their intention to participate in that, which greatly enhanced the scientific level of the conference as a result. They also highly evaluated the content of the conference, which enhanced the international position of our society. In addition, participants appreciated the landscape of Bankoku Shinryokan and high-grade circumstances feeling, atmosphere of the conference was further enhanced. Many overseas participants looked satisfied. I think the nature resort and open feeling of Okinawa are perfect for an international conference.

Q3

Please give advice to organizers considering holding events in Okinawa.

There is no reason for us to not make use of the nature resort and feeling of release od Okinawa. During to held OKINAWA COLLOIDS 2019, we set up about 80-minute lunch break and long enough time for coffee break in the morning and the afternoon. We made an effort to secure sufficient time when the participants can relaxingly exchange their opinion at the wonderful venue surrounded by Churaumi (beautiful ocean). Furthermore, we made an effort to create very Okinawa-like atmosphere by recommending to wear "Kariyushi wear" in a dress code. Also, we provided a childcare service for in the venue and allowed them to participate in the conference programs with their children. We could feel something special with that children could seen anywhere at the venue. The popularity of a social gathering will be a barometer to measure the satisfaction level of the participants in a conference in Okinawa. Even if you see a social gathering filled with full of participants' smiles, there is no doubt that the conference was a great success.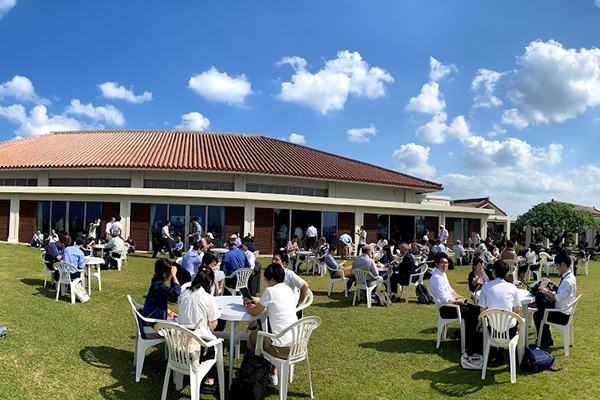 Name of conference:

OKINAWA COLLOIDS 2019: An International Conference on Colloid & Surface Science Celebrating the 70th Anniversary of the Divisional Meeting of Division of Colloid and Surface Chemistry
Sessions:

November 3 (Sun.) - 8 (Fri.), 2019
Venue:

Bankoku Shinryokan
Organizer:

The Chemical Society of Japan Division of Colloid and Surface Chemistry
Conference Vice-Chair:

Takeshi Kawai
The number of participants:

1,021 people (248 people overseas 33 countries, 767 people outside Okinawa, 6 people in Okinawa)
Schedule
Day 1:Opening special speech/Welcome Reception
Day 2:Keynote speech/General speech
Day 3:Keynote speech/General speech
Day 4:Publishing of the poster/Excursion
Day 5:Keynote speech/General speech/Commemorative speech/Banquet
Day 6:Keynote speech/General speech/Commemorative speech/Farewell party for concerned personnel